It was March 4, 2017 and it was my last day in Houston on this work trip. I had an early evening flight back to Calgary, which left me time for one more BBQ stop before heading to the airport.
Based on my thorough and in-depth social media research I had my sights set on Roegels Barbecue Co. in Houston. I hoped it would be a fitting finish to what had been a great stretch of gluttony the previous 8 or 9 days! I got myself checked out of the hotel and headed out.
Roegels is located west of the city centre, so it was a bit of a drive from my airport hotel. Despite my phone's spotty (at best) GPS performance, I made it in reasonable time without any wrong turns, other than driving past the restaurant on my first pass! A quick turnaround at the shopping centre a block or two up the road and I was pulling into the parking lot.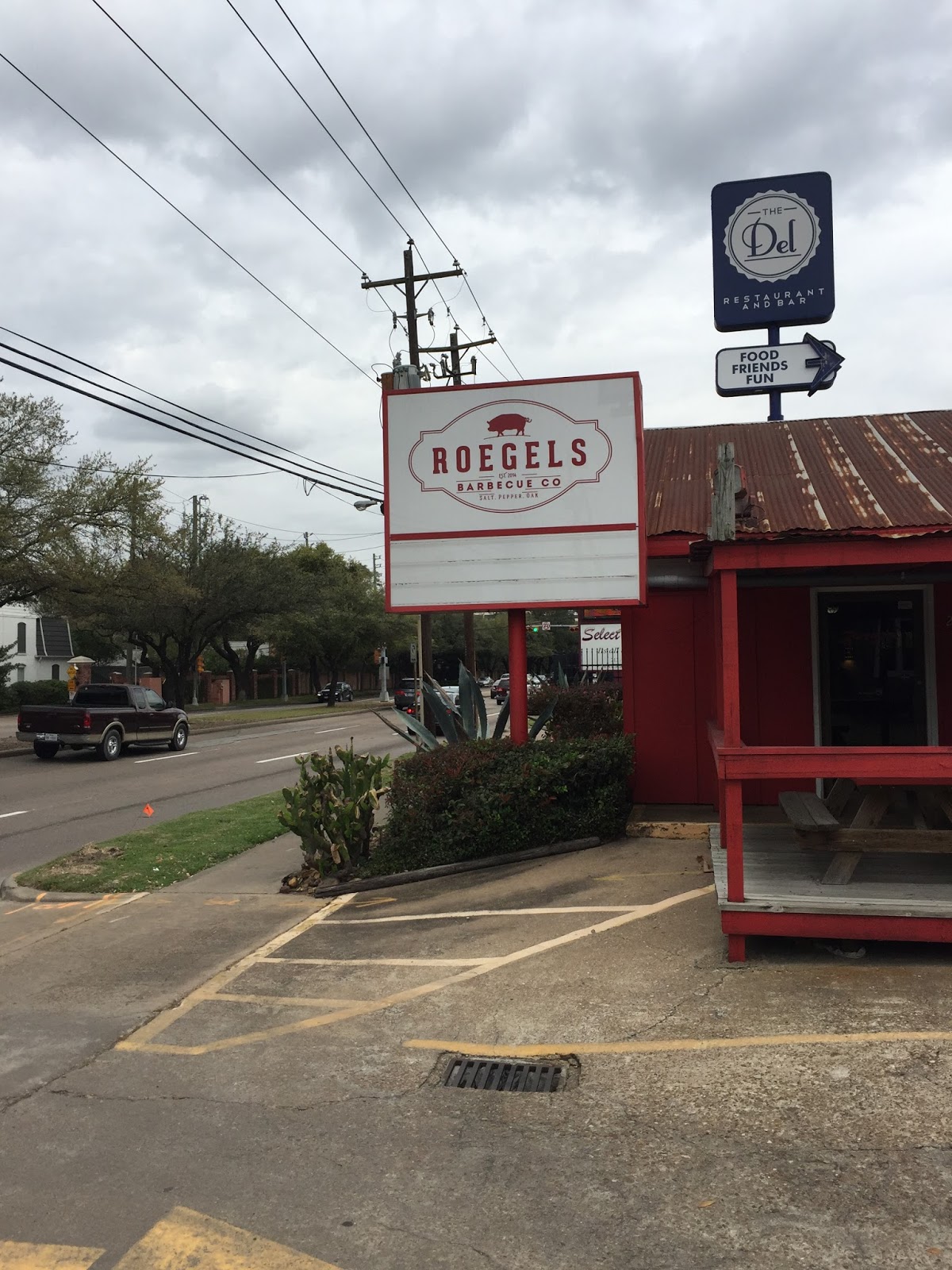 Not sure how I missed the sign!
Roegels is located in the building that previously housed a Baker's Ribs location, which was owned and operated by Russell Roegels. A few years back he decided to cut ties with the chain and open his own joint. In 2014 Roegels Barbecue Co. opened their doors and the accolades started coming. They were recently named to the list of the Top 50 BBQ Joints in Texas by Texas Monthly magazine.
The interior decor of the restaurant is nice, although fairly typical. It has a relaxed, casual feel to it, with lots of wood and western style decorations. The photo on my blog's home page came from inside the restaurant.
I approached the counter and was greeted by a very friendly man named Bruce. With Bruce's help, I opted for the three meat plate with the Texas trinity of brisket, pork ribs, and sausage, but instead of the usual sausage I switched it up for a link of their boudin sausage, something I had been wanting to try but that isn't very common in and around Houston (more of a Louisiana and East Texas specialty). For my 2 sides, I went with coleslaw and Texas Caviar, a salad made with black eyed peas, corn and peppers.
I had tweeted them earlier that I was coming by, and when Bruce asked me if I was on a BBQ tour, I suspected that he had seen the tweet. My suspicion was heightened when I overheard Bruce telling the meat cutter to make sure he gave me a nice piece of brisket (they did) because I would be taking pictures of it! Whatever the reason, the tray of BBQ that I received looked outstanding. I loaded up on pickles and some bread and grabbed a seat. The place wasn't packed for early on a Saturday afternoon, but there was a steady flow of people coming in.
The Texas Trinity with slaw and Texas Caviar
Folks, they are serving up some excellent BBQ here. The ribs were outstanding with a great bite. The brisket is right up there with anything I've tried and the thick peppery bark was outstanding. I really enjoyed my first taste of boudin, some different flavours than I'm used to, but really good. The coleslaw and the house made pickles were great and the Texas Caviar was a nice alternative to the traditional sides.
The only downside to my experience was my choice in dessert, but that is totally on me. I was full after lunch and decided to get a dessert to go, thinking I would eat it later at the airport while waiting for my flight. The idea was good, but the execution in choosing the bourbon banana pudding was a mistake. So was not making sure I grabbed a spoon. By the time I got around to eating it, the pudding had warmed up and was a little runny…especially trying to eat it with a plastic fork. The pecan cobbler probably would have been a better option. Live and learn!
Like I said earlier, the food here is top notch. The restaurant has a great ambience, the service was super friendly and in my opinion they are worthy of their Top 50 ranking. This is by far the best BBQ I have experienced in the Houston area. Roegels is definitely worth a stop and I will absolutely try and get back there on future trips to Houston.