This is my first blog post about a BBQ joint in Alberta. Now that I have finished documenting my Texas BBQ adventures, it is time to start writing about the scene closer to home. It was a busy summer and start to fall for our family, so this post has taken a couple of months to move from draft status to published.
I had the opportunity to visit Skinny's last summer and was impressed with the BBQ, so when we were going to be there again on a Sunday afternoon it seemed like a no brainer to go back! Our kids had been spending the week with their grandparents in Regina and we were meeting them in Medicine Hat to bring them home, so we planned to meet at Skinny's for lunch before everyone went their own ways.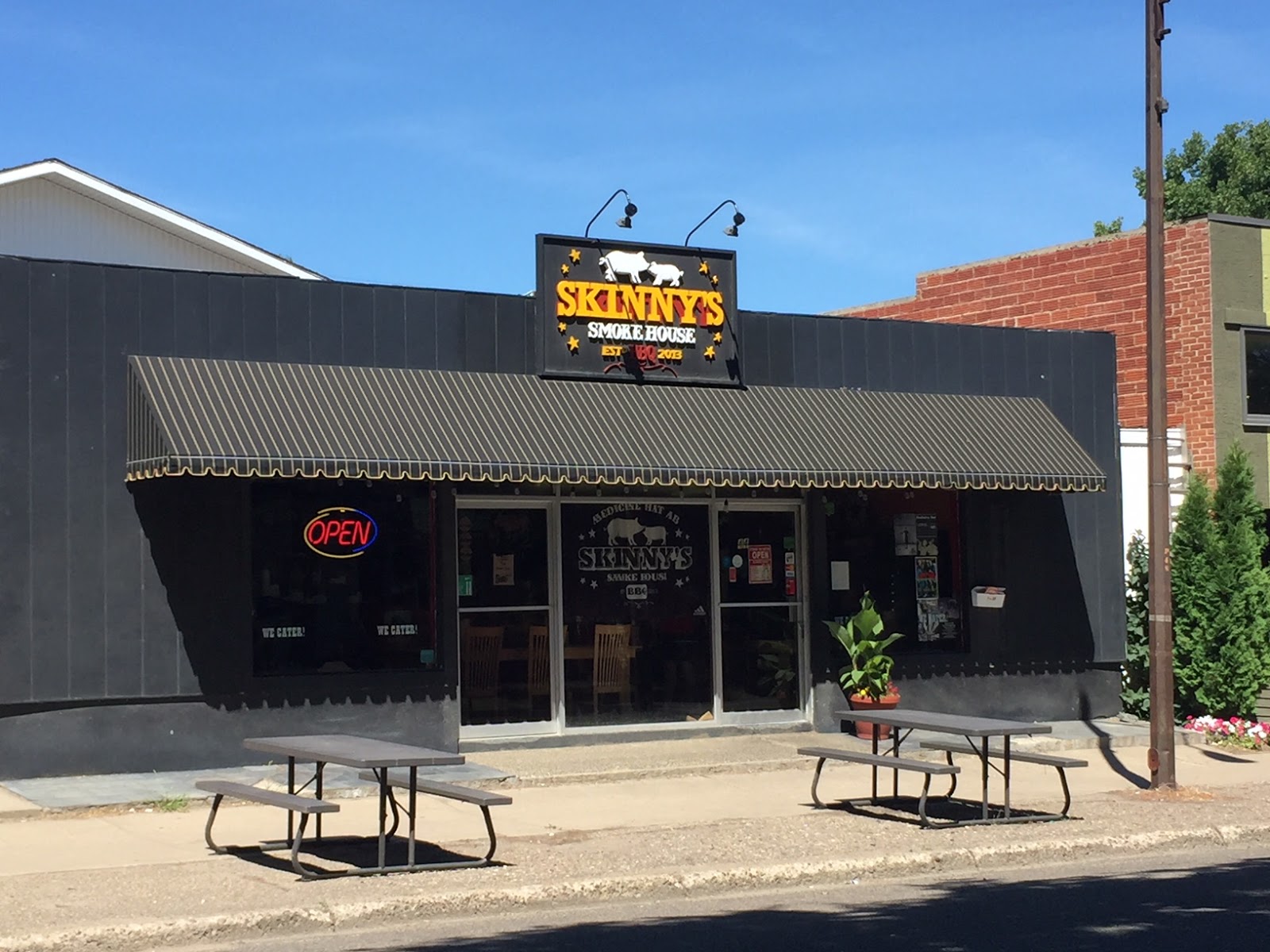 Skinny's Smoke House, Medicine Hat, AB, Canada
Knowing in advance that we would be there and wanting to expand on my blogging experiences, I contacted the restaurant ahead of time to see if they would have a few minutes to talk with me while I was there. I promptly received a reply from Jeff Brewster, one of the founders, who said he would be happy to visit. This was going to be my first 'interview', and I'll admit to being a little anxious about it.
Skinny's is located in a small shopping strip in a largely residential neighbourhood, but it is easily accessed off of the TransCanada Highway, just 3 or 4 minutes from the highway. My in-laws, with our kids in tow, were waiting inside when we arrived. We joined them inside and since everyone was hungry it made sense to order and eat and then introduce myself to Jeff afterwards. You order and pay at the counter and then they call you when your order is ready.
The décor inside Skinny's is very southern BBQ. It isn't a big place and they have 4 large communal tables that fill the dining area. Murals painted on the walls along with a pretty decent licence plate collection and some other knick knacks give it a casual and comfortable down home feel.
The license plate collection at Skinny's
The menu here is pretty standard BBQ joint fare; pulled pork, brisket, ribs, sausage and chicken for the meats. Their regular sides are baked beans, potato salad and slaw and they have different daily special sides that they offer.
The menu board
We all ordered individual meals and the pulled pork sandwich seemed to be the popular choice, with everyone except myself going that route. I opted for the 2 meat plate with ribs and brisket, with slaw and the feature side of the day, corn bread topped with honey butter. My order came accompanied by a dinner roll and some house-made pickles. The ribs and brisket were served sauce free, with 3 sauce options available on the tables. The pork rib portion of my order was 3 meaty ribs with a tasty, but not overpowering rub cooked on. They were very good and came off the bone without too much effort, although I did think they could have used just a little more time in the smoker. When my 11 year old saw what I had, she asked to try a rib and she also enjoyed it.
My daughter's partially eaten pulled pork sandwich with corn bread
Next up was the brisket. The serving was two thick slices of meaty goodness. The slices were probably double the thickness of what I've become used to getting in Texas. My first thought was that they were trying to hide something, but after one bite I was convinced that it was just how they roll at Skinny's. I've heard of places slicing their brisket thick when it is overcooked and too crumbly to slice thinner…not the case here. Even with the extra thickness I was able to pull it apart with my fingers. It was moist and delicious with a good bark on it. The fat was nicely rendered and melted in my mouth. A little dip of the meat in their regular sauce added to the flavour party happening!
My two meat plate with ribs and brisket
The cornbread was really good and the honey butter drizzled over top gave it an awesome sweetness. I really enjoyed the coleslaw and the house made pickles were great.
After we ate I went over and introduced myself to Jeff. While we sat down to chat he was testing out some smoked chicken wings and offered me one to try. It was great with a really tasty rub, a little bit of spice and also some brown sugary sweetness. Definitely something they can consider adding to the regular menu!
Skinny's has been open in Medicine Hat since 2013 and Jeff is the co-owner along with Todd Lindsay. At the time both men were looking for a change of scenery career wise. Jeff was on a waterskiing trip in Florida and visited a BBQ spot in Auburndale, FL called Peebles Bar-B-Q; and that is where he caught the BBQ bug! Soon after, he and Todd took a trip through the southern states doing research that took them through Kentucky, Tennessee, Louisiana, Arkansas, Oklahoma and Texas. I asked Jeff if there were any stops on their trip that stood out for him. He mentioned Q39 in Kansas City as having the best pulled pork he had tasted. They visited LA Barbecue and Stiles Switch in Austin and Riscky's BBQ in Fort Worth. Jeff mentioned that a couple of places in Danville, KY and Tulsa also stood out, but the names escaped him. There is a great mural painted on one of the walls inside the restaurant depicting their journey.
Jeff & Todd's Excellent BBQ Adventure!
They cook on an Ole Hickory gas assist smoker using primarily cherry and apple wood, although Jeff mentioned that they had been experimenting with smoking some fish using mesquite. Jeff also let me in on the fact that construction has started on a new location on the west side of Medicine Hat in a new commercial area just off the highway with a much larger capacity, between 150 and 170. They are also selling their sauces commercially in area grocery stores.
These guys are making great BBQ out in Medicine Hat and I look forward to visiting them again and checking out the new location once it opens. If you find yourself around Medicine Hat, definitely go and find Skinny's! Support your local pit master and eat more BBQ!