After breakfast at Snow's and lunch at Louis Mueller, I rolled into Austin and got myself checked into my hotel. I crashed for a bit of an afternoon nap before heading out once again.
I had a couple of items on my agenda to take care of on my way to Stiles Switch. One of the Austinites I follow on Twitter is Jess Pryles. She is a barbecue aficionado and her website, www.jesspryles.com has some cool swag, and I was hoping to pick up one of her Hardcore Carnivore t-shirts. The website listed a local store as one of the places carrying her items so I stopped in there. Unfortunately, all they carry are her rubs, so no luck there.
My next stop was to scout out the location for my next day's adventure, but more on that in the next blog post! From there I headed for Stiles Switch…at least that was the plan. My phone GPS was giving me trouble and I ended up missing my exit…causing me a substantial detour and some frustration.
I finally found my way to the restaurant and headed into Stiles Switch BBQ & Brew. The restaurant is relatively new, but it is located in one of the oldest shopping centres in Central Austin. Their website says that the location was used for filming the movie Dazed & Confused back in the 90's. The decor reminded me of an old roadhouse. Lots of wood and neon, tv's on the walls. Simple wooden tables and some larger communal bar height tables. You enter at one end of the large room and an aisle takes you along the wall up to the counter at the opposite end. Being my third stop of the day, I decided to go for a lighter option and went with the smoked turkey breast along with pork ribs, coleslaw and potato salad (not really a light option…just lighter!). The usual white bread and pickles along with a side of sauce and I was good to go.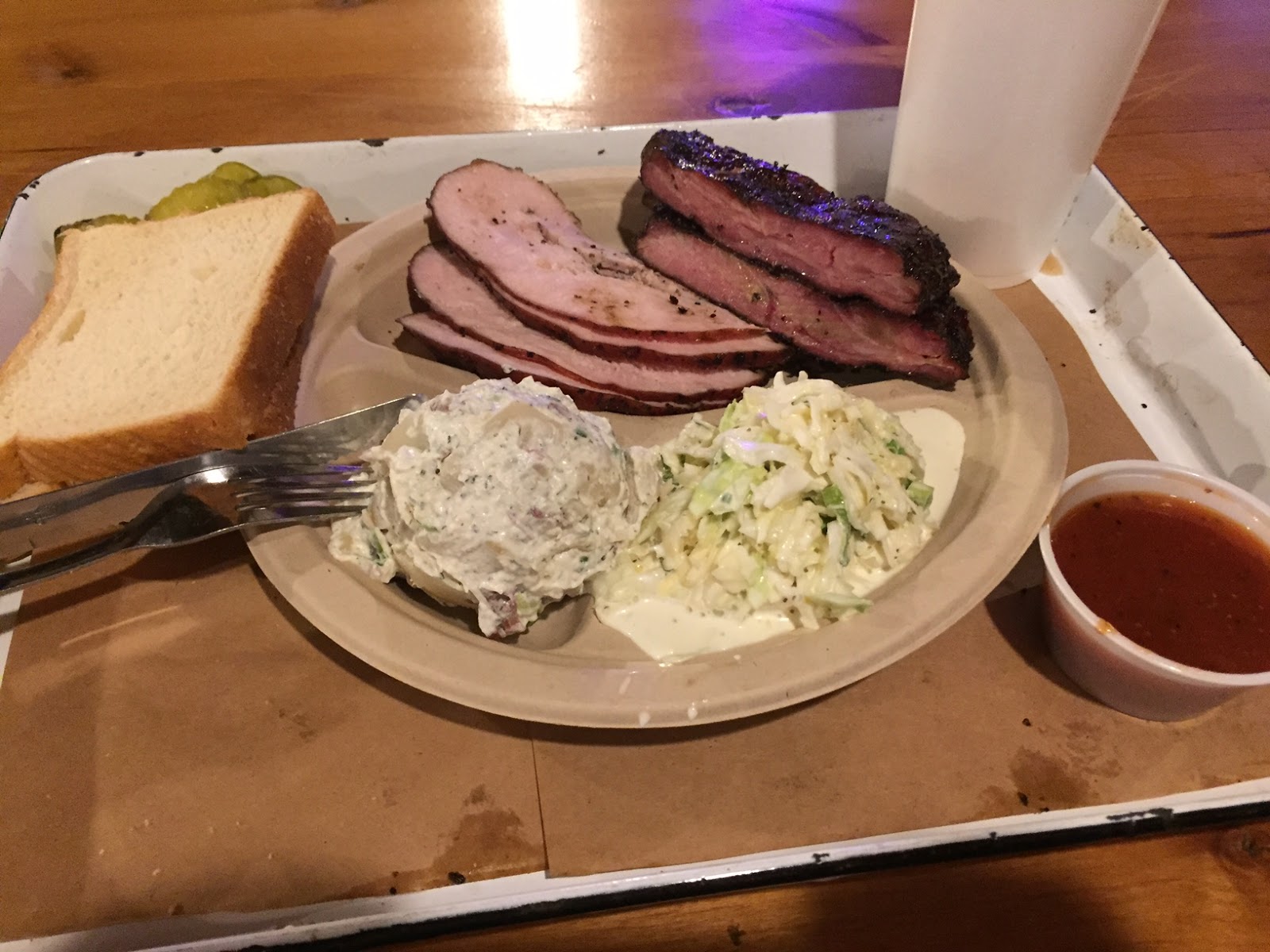 Stiles Switch BBQ & Brew – smoked turkey & ribs
The ribs were very good, although I did find the bark to be a bit on the peppery side. The sides were great. The turkey was good, but a little on the dry side. Stiles Switch was just named one of the 50 bbq joints in Texas in the new Texas Monthly ranking, so I'm going to assume that either I caught them on an off day or it was the fact that it was my third bbq restaurant of the day, combined with being tired and frustrated at getting lost on the way. Other than the dry turkey, I can't really point to anything wrong, but I was left wanting more. Given the circumstances and all the good things I've read about them, I feel like I owe them a second visit. I'm pretty certain it was just me, so don't hesitate to check them out if you have the opportunity.
I had planned to check out some of the Austin nightlife, but after eating I just made my way back to the hotel (with another brief faulty GPS related detour) and crashed for the night.