The second day of this Texas BBQ trip was Sunday and I headed out of Houston on the now familiar to me Highway 290…only this time it was a shorter trip than on previous occasions. My destination on this beautiful morning was Brenham, TX and the highly acclaimed Truth BBQ.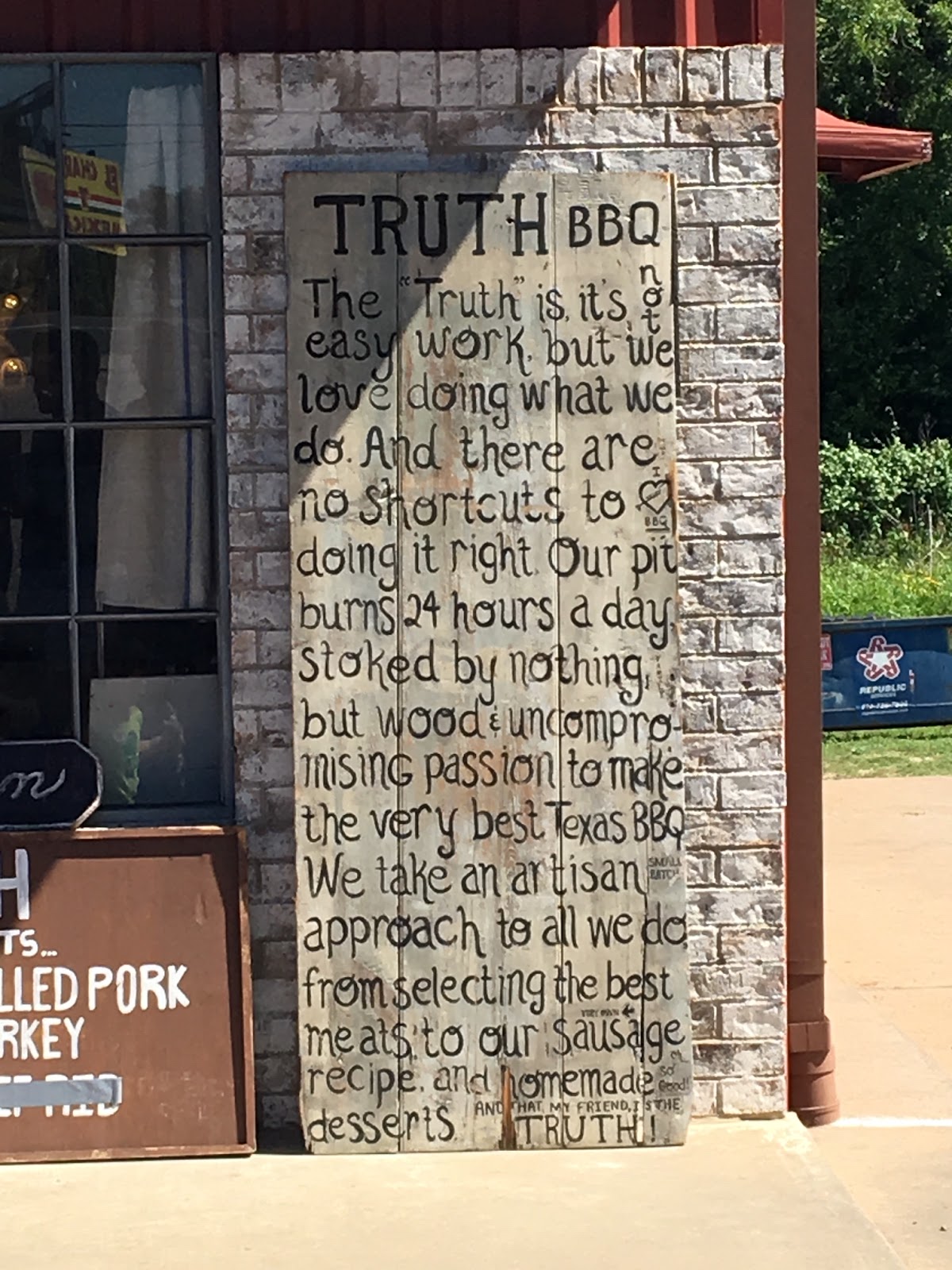 I found Truth fairly easily and parked on the dirt road behind the restaurant. I had arrived about 30 minutes before opening and there was a line of around 15 people happily waiting out in the sun, with a few taking advantage of the cooler full of Lone Star outside the door. Truth BBQ is located in a fairly small, older building, but they are on a good sized lot and they have built a nice big shaded patio area to eat in.
Truth Barbeque Smoker
There is a large offset smoker out front that was lit and running while we waited, the scent of oak burning adding to the ambience and increasing my hunger! Once they opened up the line moved quickly and it wasn't long before I was able to get out of the hot Texas sun and go inside the building. They have a handful of tables inside along with the ordering counter. Owner and pitmaster Leonard Botello was behind the counter and you could see the care he was taking with cutting and plating every tray. I've heard him talk before about the importance of making each tray of food 'Instagram worthy'. When I got up to the counter I was given a delicious sample of brisket to try. It was incredible to say the least, and brought back memories of my first visit to Louie Mueller in Taylor.
My plan had been to order brisket and sausage, but while I was in line someone on Instagram mentioned to me that their pork ribs were outstanding so I decided to go with all three. For my sides I opted for mac & cheese and the cornbread pudding. I had heard and read a lot about the delicious cakes they offer at Truth and they looked as good as I had imagined. If I hadn't been travelling alone and maybe if I had a cooler with me I may have ordered a slice to go…it would have satisfied my sweet tooth for a couple of days for sure! The staff was very friendly and I had a nice chat with the man at the register and we swapped stickers.
I took my tray out to the covered patio and found a picnic table to sit at and enjoy my meal. Just like the day before at Tejas, the brisket was right up there with the best I've had. Moist, perfectly cooked, melt in my mouth meaty goodness. I would have a tough time ranking it because so much time has passed between visits to Franklin and Louie Mueller, but this was certainly in the same category. The ribs did not disappoint and neither did the sausage. I ordered the jalapeno cheddar sausage and it was simply excellent with a nice kick to it. As expected from a Texas Monthly Top 10 joint, the ribs were cooked just right and delicious. The mac & cheese was saucy and perfect while the cornbread pudding was a great alternative I haven't seen or tried elsewhere.
Also seated at my table was a group of students from Texas A&M in nearby College Station and I was able to chat with them a bit about their Truth experience. Everyone really enjoyed their meals.
Truth is getting ready to open up a second location in Houston, and I'm looking forward to trying that out on a future trip down there.
After eating I walked around the property a little and took some pictures of the woodpile and some of the signs they had around. This is a really neat little place and certainly worth the short drive from Houston if you're in the area and don't want to wait for their Houston location to open!
From Brenham I continued northwest on 290 towards Austin, but this time my destination was just on the north side of Austin in Georgetown, TX. John Mueller is the grandson of Louie Mueller and has a long and storied history in Texas barbecue. His latest incarnation is at John Mueller Black Box Barbecue, a trailer on a corner lot in Georgetown. It was late afternoon by the time I got there and I was full from my previous stop, so I ordered light with a couple slices of brisket and John's famous cheesy squash. The brisket was good, don't get me wrong, but it wasn't the Mueller brisket that I expected. It may have been the late hour or maybe just a bad piece, but I found it tough. It was still very flavourful and peppery, just not as tender as I had hoped. The cheesy squash was great and I'll definitely be looking for a recipe to try and make it myself as a side for one of my cooks. It is simply chunks of squash in a cheese sauce, with some pepper I believe. Simple, but delicious.
I washed my food down with a cold Lone Star out of the cooler. The cooler at Black Box has Lone Star and Bud Light in it. The Lone Star is for customers and the Bud Light is for John! There is a sign on the cooler warning you to leave the Bud Light alone. I was aware of this and stopped on my way into town and picked up a 6 pack of Bud Light for him. John was sitting and visiting with a couple of people. When I was done eating, I brought the Bud Light over and introduced myself. One of the folks he was sitting with turned out to be his son. I didn't want to bug them, so I kept it short and gave him one of my stickers. I was thrilled a month or so later when he posted a picture on Instagram and my sticker was on the side of the trailer in the background!
This was another day of great barbecue and I embarked on the 3 hour drive back to Houston and my hotel. I had to rest up to work the next day and for more barbecue adventures during the week!