With my weekend of barbecue behind me, I was working during the days on Monday through Thursday (this was the purpose of the trip after all). Monday evening I enjoyed the take out 'cue I'd picked up from Roegels on Saturday along with some bread from the hotel's breakfast bar. As I mentioned in my first post about this trip, the brisket and boudin were still excellent 2 days later and eaten cold alongside the Texas Caviar.
After spending Tuesday afternoon at the office in Houston, I drove north to the Atoscacita neighbourhood to check out Tin Roof Barbecue. This is a good sized restaurant in a retail/commercial area. They have a large covered seating area outside as well as some indoor seating. The order line winds along the outer edge of the outdoor seating and then takes you inside to the order counter. I ordered a two meat plate with brisket and ribs, along with mac & cheese and green beans as my sides. The ribs I received were tasty, but a little on the tough side. The brisket was tasty with a nice peppery bark to it. The mac and cheese was good and creamy, but the green beans were a bit of a soggy disappointment. I also got a slice of pecan pie to go which I enjoyed greatly later that evening! I just can't go to Texas and not have pecan pie!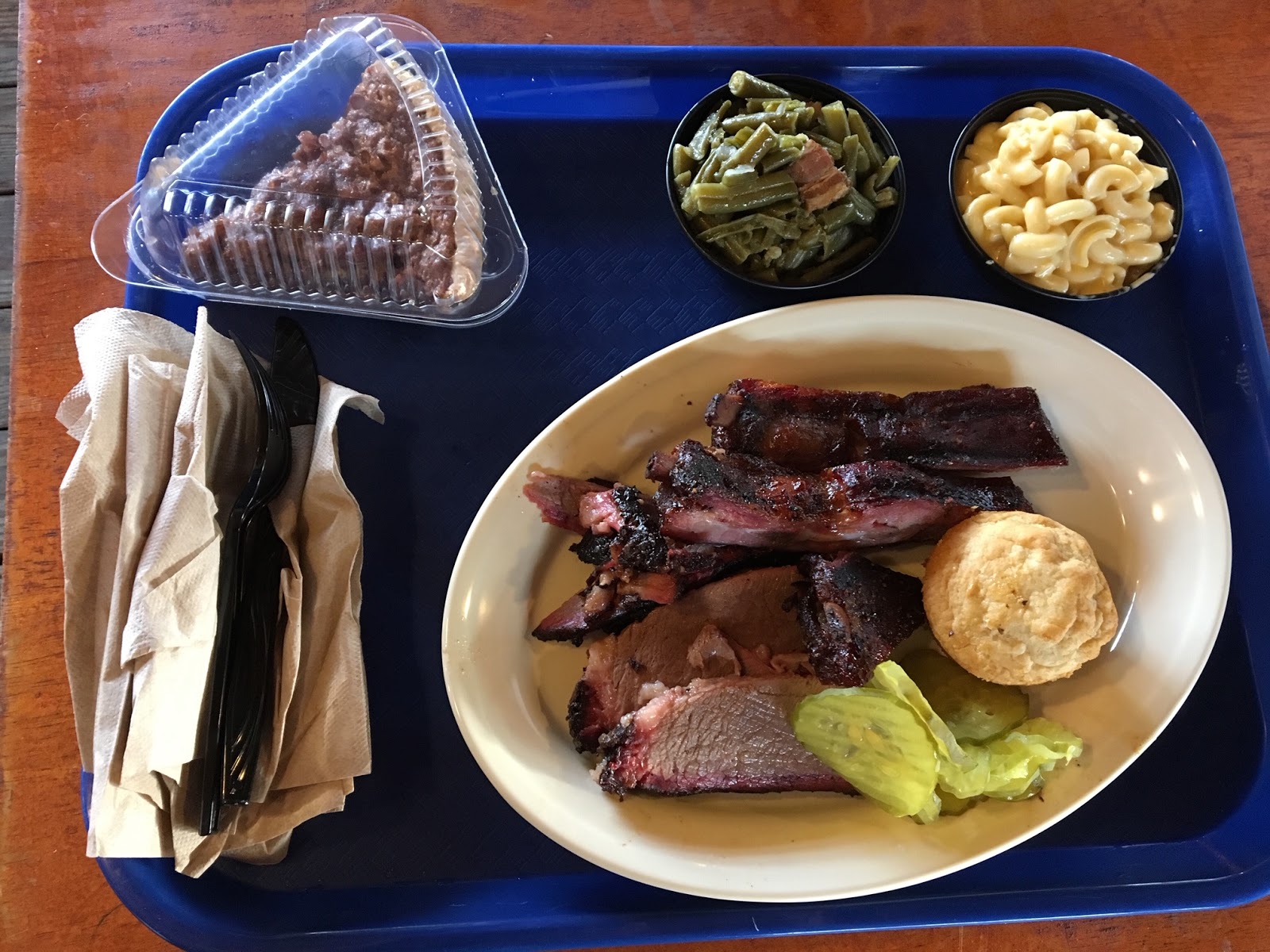 Wednesday evening was my last night in Houston and I had made plans to meet up with Andrew & Bryan, the hosts of the Tales From The Pits podcast. Unfortunately, they both had things come up at work and weren't able to make it. That didn't deter me and I made the 30 minute drive from my hotel to Pinkerton's BBQ in the Heights area of Houston. Pinkerton's is located in a good sized stand alone building with an outside patio.
The interior is rustic and it is clear by the hunting trophies that owner Grant Pinkerton loves the outdoors.
It wasn't particularly busy on this Wednesday night and I was able to order right away. There is a bar/lounge attached to the restaurant, so I was able to get a pint of a local beer to enjoy with my dinner. I ordered the 3 meat plate with brisket, sausage and ribs along with sides of mac & cheese and jalapeno cheese rice. I opted for the ribs without the glaze and they were awesome, though I have heard great things about the glazed ribs as well. The whole tray was excellent and worthy of Pinkerton's Texas Monthly Top 50 ranking. This visit was a great way to celebrate my final evening in Houston.
Jalapeno Cheese Sausage at Pinkerton's
Thursday was filled with more work meetings before it was time to make my way to the airport. Just because I was leaving didn't mean I was done eating barbecue though. Fortunately, my departure terminal was home to Q, an airport barbecue restaurant overseen by Greg Gatlin of Gatlin's BBQ in Houston.
Q actually features a glass enclosed smokehouse right in the airport which is pretty cool. It also features a well stocked bar which guests sit around and order via a computer screen system. I opted for the brisket sandwich and fries. It wasn't the best barbecue I ate this trip, but it was pretty darned good and better than you'd expect from an airport.
After my meal, I got on my flight and rested on the trip home with dreams of brisket and sausage and carrot souffle and ribs and cheesy squash and pecan pie dancing through my head! Until next time Texas…until next time!