It was a beautiful, sunny, Saturday morning in Houston, and it was the last day of my trip. My flight didn't leave until late afternoon though, so that meant I had time for one more barbecue visit. Prior to my trip, I had been hearing a lot of buzz about Killen's Barbecue, just to the south of Houston in Pearland, so I decided that it would be the final stop for this work trip/barbecue journey. I had been texting that week with a friend about meeting for lunch on Saturday, and it turned out that he lives in Pearland, so we made plans to meet at Killen's. I arrived about 45 minutes before opening, parked in the back and had a peek at the smokers situated behind the restaurant before joining the line out front.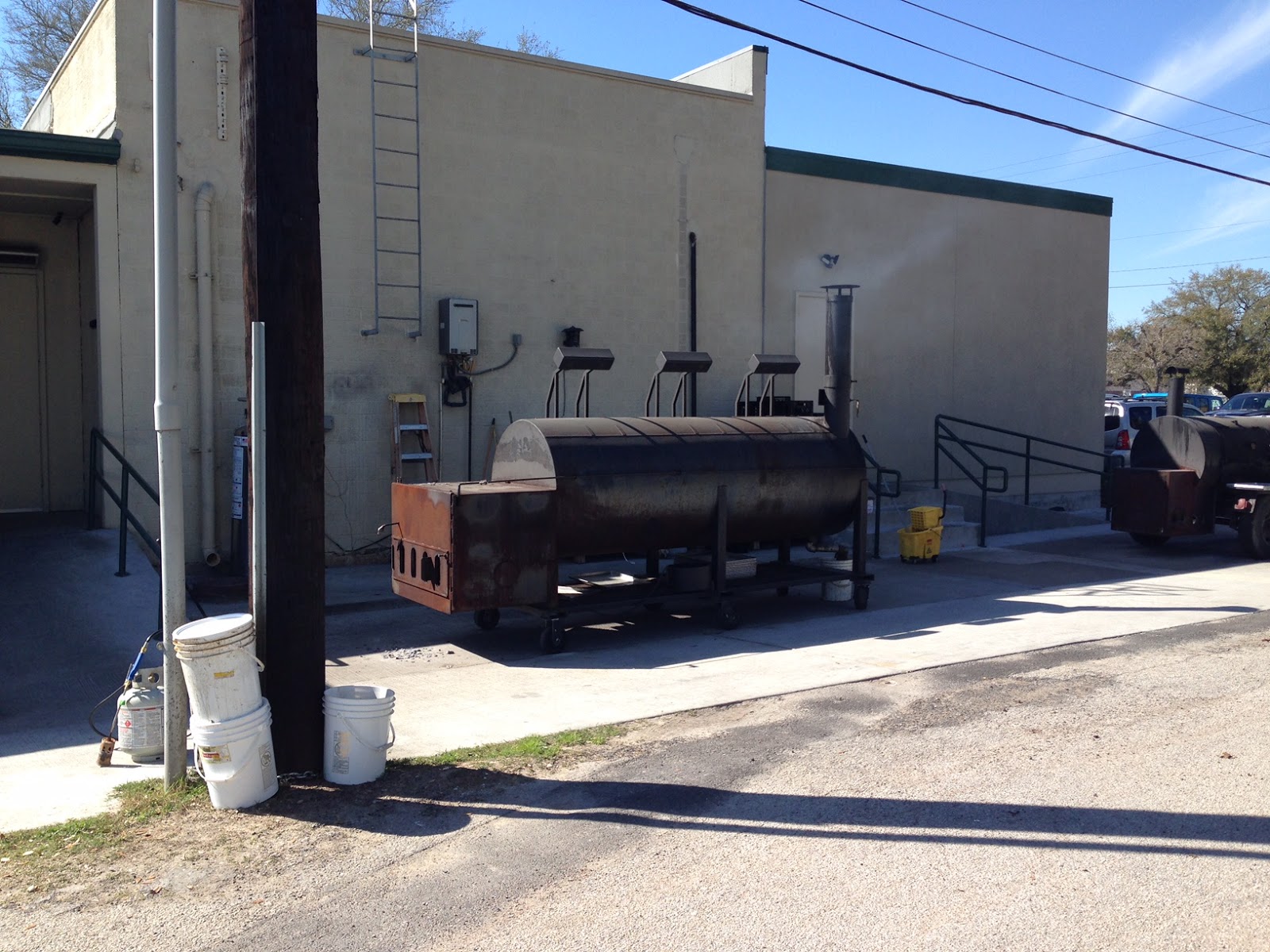 I joined the line, which was about 20 or 30 people deep at this point. My pal Jason arrived just a few minutes later and we spent the time in line catching up on each other's lives. Jason and I work in the same industry and have gotten to know each other over the years. The restaurant was offering free beer to the folks in line (something fairly common I've learned), while taking donations for a charity.
Once opening time came the line moved fairly quickly, and before long we were out of the sun in the shade of the entrance canopy and then through the doors into the building. There is a small foyer once inside that leads to the ordering counter. We ordered our meats and sides, plus I had been tasked with bringing home a pecan pie, so I also ordered a whole pie. On my previous trip to Houston, I had commented to my family on how good the pecan pie (my all time favourite pie by the way) was, so it was requested that I bring one home. I had picked up a round, plastic food container at Wal-Mart earlier in the week so I was prepared. I asked the restaurant to wrap the pie in plastic wrap for me and they were happy to oblige!
We paid the bill and took our trays to a table. This is a much newer building (or at least recently renovated) than some of the other places I had been to that week, so it is missing that feeling of history and tradition. There are no Louie Mueller smoke stained walls here for sure, but the design and decor gave it a bit of an old style diner look, so it definitely had character. There is a counter for tea and fountain drinks, and also for the usual condiments like pickles and onions. The table contained a couple of sauce options. Again, like at Leon's a week earlier, I didn't take a picture of my plate (over a year ago I had no idea that I would one day be writing a blog about these adventures!). I know I had brisket and pork ribs, both of which were top notch. The brisket at Killen's is what I had been reading about and it was easy to tell why. Delicious bark, beautifully tender with the fat well rendered. The ribs were on the par with the brisket. Great bark with a good bite, the meat pulling away from the bone with just a bit of effort. The sauces were good, with the coffee flavoured sauce having a particularly interesting taste to it.
A year later, I am trying to remember if I ordered the 2 meat plate or the 3 meat plate. Given how memorable the brisket and ribs were, I have to think I showed a rare bit of restraint and just went with the 2 meater as I am sure I would remember a third meat if I had gone for the third. If my memory serves me, Jason ordered brisket and pulled pork and enjoyed them both.
I've heard good things about the beef rib, so I will have to make sure I get back to Killen's on a future trip. By the way, the pecan pie made it home safe and sound and was enjoyed by the family, although we all noted that you could taste a bit of smoke flavour in the crust. I say Killen's BBQ is worthy of all the hype I had read about prior to my visit and continue to see. I will be interested to see where they rank when the updated TM BBQ rankings come out soon.
Killen's is owned by Chef Ronnie Killen and is just one of the restaurants in Pearland and Houston he runs. There is also Killen's Steakhouse, Killen's Burgers and the new Killen's STQ in Houston, next door to Roegel's BBQ.
Check out Killen's at www.killensbarbecue.com and follow them on Twitter at @killensbbq.