After my Saturday featuring 3 BBQ joints in Taylor and Elgin, I made my way to Galveston on Sunday. I had visited Galveston on my previous trip to Houston, but the fog that day was so thick you could even see the water from the sidewalk on the other side of the beach so I wanted to get back there and hopefully see some of the local attractions this time around. I had also been disappointed after that first trip to find out there was a top notch barbecue place that I had missed out on, so I had a few things on my agenda.
I made the drive from Houston, arriving mid morning. I parked down around Seawall Blvd. and took a stroll along the Gulf Coast line. Along the boulevard opposite the beach are plenty of restaurants and bars, along with some shops. There is also a large gift and souvenir shop on the beach that is elevated up over the water. I walked out onto one the piers extending out into the gulf and chatted with a couple of folks fishing there.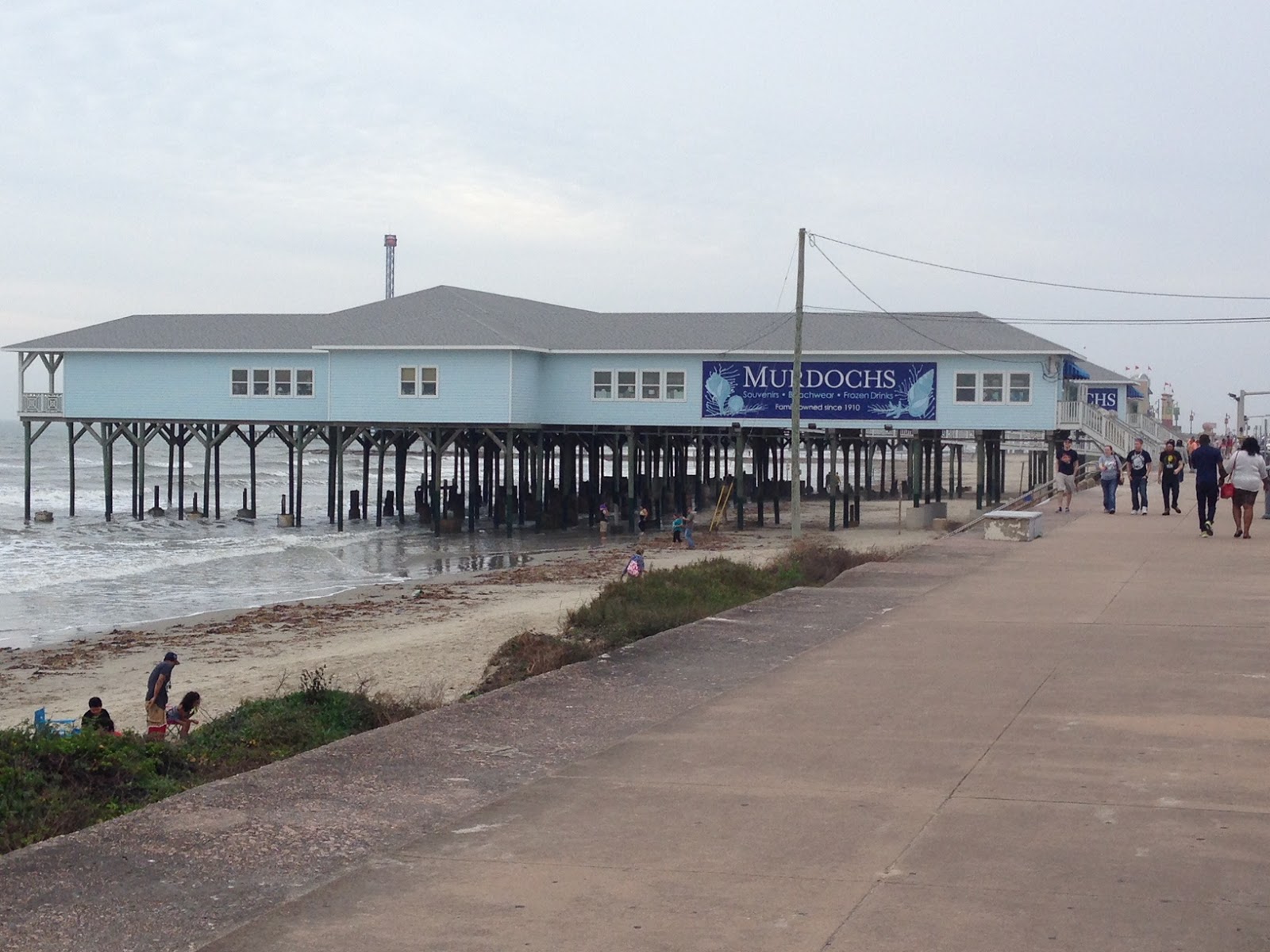 There is also a small amusement park, Pleasure Pier, with rides and games. I took a stroll through the park. It looks like it would be fun for the younger crowd, but there are only a couple of rides geared for adults. The roller coaster looked fun, but I didn't want to be that creepy guy riding the coaster all alone! Besides, by this time I was ready for some lunch. Before leaving the beach, though, I grabbed a picture of the Hotel Galvez & Spa.
It looked like a beautiful old hotel, facing the beach and the Gulf. I haven't been to New Orleans, but the architecture of this hotel and many of the homes around Galveston reminded me of what I've seen on TV and in movies of New Orleans, not surprising since they are just across the Gulf from one another.
I made my way back to Broadway and to Leon's World's Finest In & Out Bar-B-Que. If you're not looking for it, you'll miss it, even though it is right on the main drag through Galveston. Leon's is a TMBBQ Top 50 rated joint, so while hard to find the food is legit.
Through the storm door and into a small dining room with the walk up counter. The folks inside were very friendly. If I recall correctly I ordered up a three meat plate with ribs, brisket and sausage (I failed to take a picture of the meal for some reason). I also ordered up the kicked up spicy rice as my side and sat down to enjoy. There was a group of college age kids there, licking their wounds after what sounded like a hell of a good time the night before. I dug into my lunch and was very pleased. The brisket and sausage were both excellent, but the ribs stole the show in my opinion, along with the slightly spicy rice mixed with cut up vegetables. Those ribs though, just outstanding! For dessert, I struggled to decide between the pecan pie or the buttermilk pie, but I ended up with the pecan option…it's my favourite pie, I couldn't help myself! There was another fellow that came in while I was there and he was raving about the boudin sausage, so that will have to be on the menu next visit. Boudin is a Cajun sausage made with pork and rice. If you are planning a visit to Galveston Island, be sure to check out Leon's and visit them online at www.leonsbbq.com.
After lunch, I headed to the other side of the island to the port area. There were a couple of crazy big cruise ships docked in the harbour and I strolled down the docks where a number of fishing boats were unloading the days catch. From there I took a walk around the downtown area and visited a number of the gift shops there to find souvenirs for the family!
This was a much better visit than my first attempt at Galveston, partly because I could see where I was going, but mostly because of some darn fine BBQ at Leon's!