In February of 2016 I once again had the opportunity to head down to Houston for work and like the previous trip, I was going to have a weekend to myself. By this point in time I was considerably more educated on the BBQ scene, thanks to social media and in particular the Texas Monthly BBQ blog written by Daniel Vaughn. I highly recommend
www.tmbbq.com
if you are interested in learning about the BBQ joints, people and history of barbecue in Texas.
Armed with this newfound knowledge I planned my day trip for the Saturday and headed out early that morning, taking highway 290 out of town, once again for Taylor, TX.
My first stop was a return visit to Louie Mueller, but this time I had a different beef item in mind. As well known as they are for the brisket, they are also famous for their beef ribs, so I figured I'd better give it a try! I got there ahead of any big lineup and made my way up to the counter to order, and to enjoy that beautiful brisket sample of course! I also wanted to have one of the jalapeño sausages I had enjoyed the last time. When I gave the cutter my order of a beef rib, a sausage, a side of potato salad and a banana pudding for dessert he kind of chuckled. A few moments later when he placed the massive beef rib on my tray I understood why. It was huge. While I have lived my entire life in cities, I have spent enough time outside the city to know how large cows are, but seriously, this thing was ridiculous. The bone was the size of my forearm. But here I was, the meal was paid for so there was only one thing to do…dig in!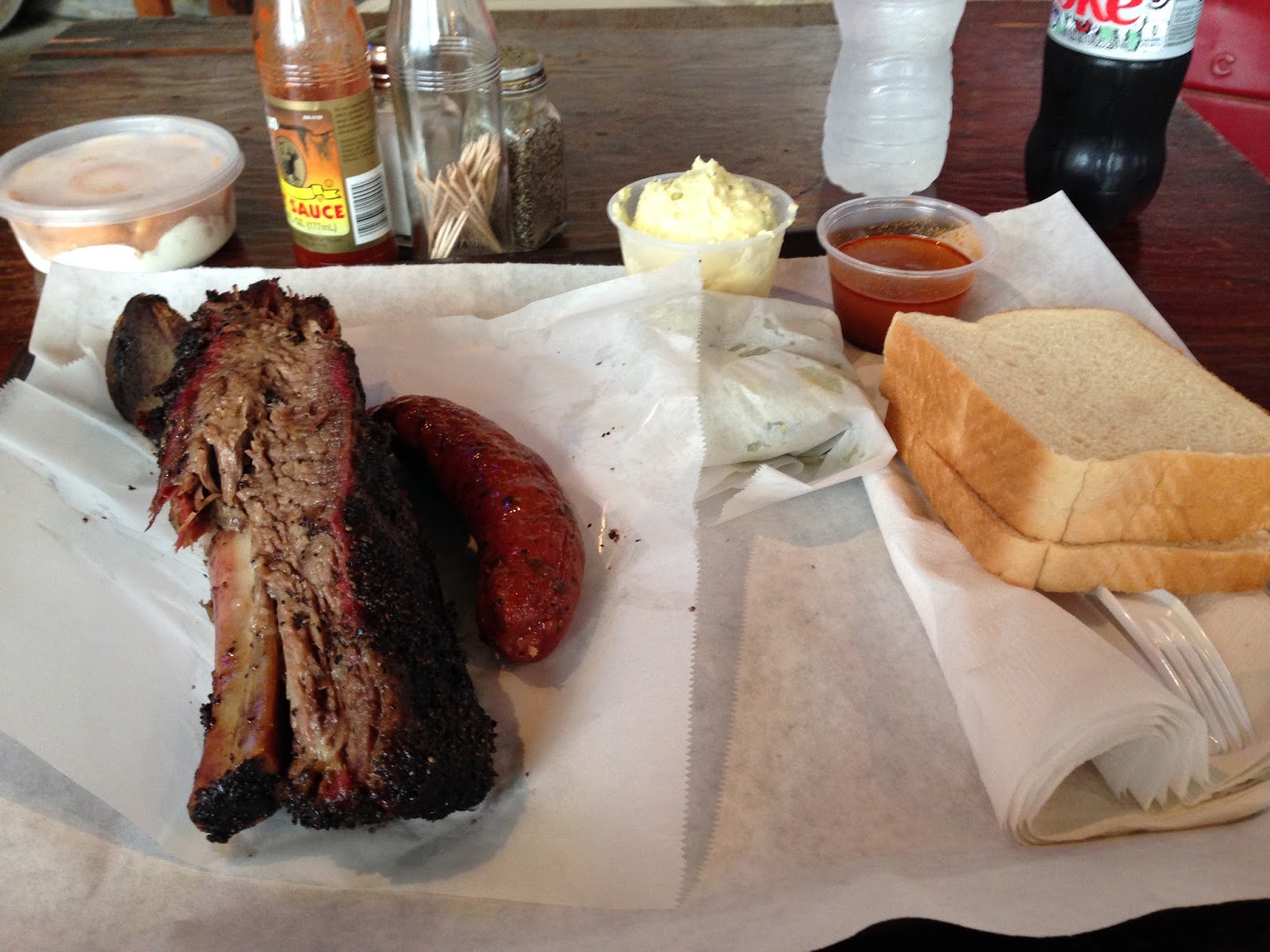 The rib was excellent. Tender, succulent meat seasoned with that famous black pepper and salt crust. The only issue was just how darned big it was. The sausage and potato salad, while not needed, were both very good, but the star of the show was the rib. I did enjoy the banana pudding at the end of the meal. It was thankfully not too heavy or rich and the sweetness was welcome after all the savoury meat.
I had another stop to make while in Taylor, but I needed some time, so I found the local Walmart and wandered around there for a while to let that beef rib digest a little.
The town of Taylor is home to another well known barbecue joint, Taylor Cafe. I had read a comparison, saying that Louie Mueller is a BBQ place that sells beer, while Taylor Cafe is a beer hall that sells BBQ. After my short visit I have to agree.
Taylor Cafe looks just like your typical small town bar. Neon beer signs on the walls, bar counters in the middle with tables lining the walls. There are two bars inside, apparently a relic of the segregation days. The attraction for me wasn't the food, but the opportunity to meet the legendary owner, Vencil Mares. I first read about Vencil in the 'Peace, Love and BBQ' book. He opened Taylor Cafe in 1948 after returning from World War II. Now in his 90's, Mr. Mares occupies a seat by the bar most days, and that is where he was when I wandered in. The bar was mostly empty and I took a seat at the bar and ordered a simple sausage on white bread with pickles and onions. Vencil was visiting with a couple of regulars that were there. After eating I took the opportunity to say hello and shake his hand. From what I have read, the BBQ at Taylor Cafe may not be what it used to be, but I was grateful for the chance to meet a legend and to be able to say I've eaten there.
My third and final stop for the day on my way back to Houston was at Southside Market in Elgin. Famous for their "Hot Guts" beef sausage, Southside bills itself as the Oldest BBQ Joint in Texas and has been in business since 1882. Like many of the legendary Texas BBQ places, Southside started out as a meat market before the days of refrigeration. To keep cuts of meat that didn't sell right away from spoiling, they were smoked to preserve them. Over the years Southside has changed ownership a number of times and a fire in 1983 forced them to move from the original building to the current location right on Highway 290.
Walking in the doors, it was clear that this was a larger, more commercial operation than my previous stops that day. It is a much larger restaurant with a gift shop area (I got t-shirts for me and my daughters and a bottle of sauce that we are still enjoying). To be honest, by this time I was pretty much stuffed, but I had to try something. I ordered a brisket sandwich and a sausage slammer, which was a delightful combination of jalapeño, cheddar, sausage and bacon…truly 4 of my favourite things!
I really liked the slammer and the brisket sandwich was good, but I was too full to give it a truly fair shake. This is a large operation serving a much higher volume of customers than a place like Louie Mueller and as such it would be unreasonable to expect the food to have the same hand-crafted quality. I haven't been back through Elgin since, but I would certainly like to go back and give them another taste…maybe when I'm not in the middle of a serious case of the meat sweats! Check out their story at www.southsidemarket.com.