I mentioned in my first post that there just isn't a ton of real barbecue around Calgary. Like I said, there is some out there and some of it is good…there just isn't a lot of it, so I didn't have a chance to try a whole lot.
I started a new job in June of 2013 and later that year I was asked to spend a week or so working in our Houston office in February of 2014. I decided if I was going to be in Texas I might as well take advantage of the opportunity to try out some of the local barbecue. While I was there my weekdays were going to be busy working, but I was going to have a weekend to myself. I started doing some research online to figure out where to go and one place kept coming up, Louie Mueller Barbecue in Taylor, TX. Everything I read made it seem like exactly what I was looking for. Small town place, long history, great reviews. Hell, the place is called "The Cathedral of Smoke". It was decided. Early on that Saturday morning in February I would head out from Houston for the 2.5 to 3 hour drive northwest to Taylor. I checked in with them on Twitter the day before to see what time I should plan to be there…needless to say I was a little excited and didn't want to miss out on what I'd heard was their legendary brisket!
I hit the highway for the drive, arriving in Taylor around 11:00 am. As I recall, my phone GPS was acting up so I had to drive around a little trying to find the place and even drove by it once looking for it.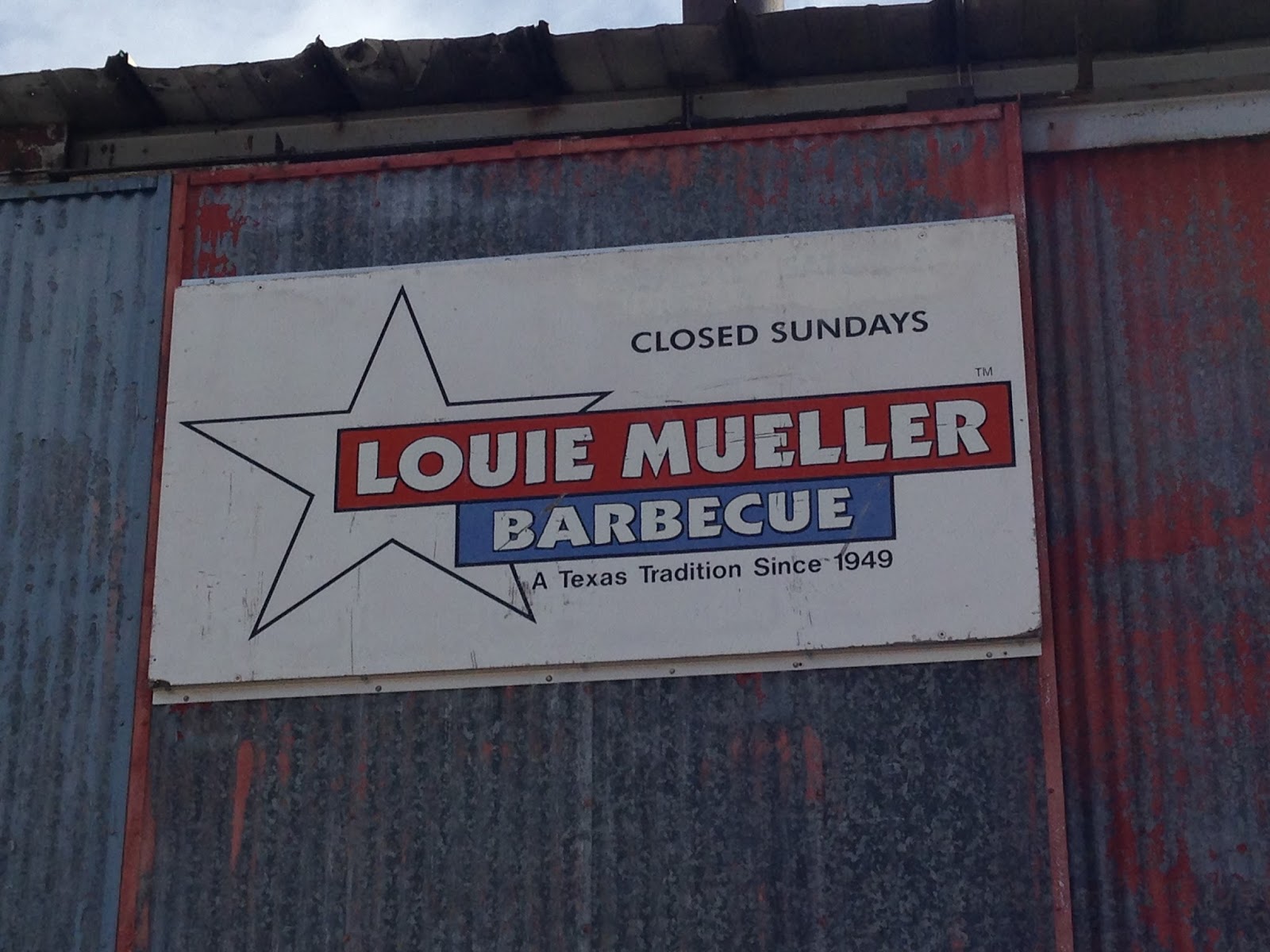 When I did find it I was pleased to see that I had arrived in time to beat the line up! I parked and walked up to the old screen door and when I stepped inside it was like I was stepping back in time 40 or 50 years. The dark, smoke stained walls, the old signs, the framed magazine covers and posters all gave the interior a sense of history. There was a short line up and before long I was at the counter, about to experience something I had read about. You see, when you get to the counter at Louie Mueller, the meat cutter slices off a chunk of brisket on the big wooden chopping block and gives you a sample to enjoy while you order. It was like nothing I had ever tasted. Tender beyond belief, I hardly had to chew it. It just kind of melted in my mouth, the long smoking process having rendered the fat down to an almost liquid state. The meats are sold by weight. I ordered up 3 slices of the brisket and was fortunate to get an end piece, full of fabulous salt and pepper bark. I opted for a jalapeño sausage and a side of coleslaw, with sauce on the side.
This was three years ago now and the memory I have of it is wow! Just like the sample I had received at the counter, the brisket was almost fall apart tender and so delicious, with the taste of smoke present, but not overpowering and the flavours of the bark flooding my mouth with happiness. The sausage casing had a satisfying snap to it as I cut through it and the jalapeno gave it a nice, flavourful kick while not being overly spicy. The coleslaw balanced out the meat nicely. I tried the thin, tomato based sauce with the brisket, but frankly meat that good doesn't need sauce (something I would later learn is a bit of a trademark of Central Texas barbecue).
I picked up a t-shirt on my way out as a souvenir and to this day, whenever I put it on I swear I can smell that sweet smoke!